ENERGY PERFORMANCE OF THE Third parties, GMS and residential housing
The Orygeen teams have worked on :
---
The replacement of interior and exterior lighting of a commercial surface and associated warehouses in the East of France.
 The elaboration of an energy strategy for long term electricity provision in order to lower the price volatility of specialised distributors.
 The realisation of a 1 MW parking shade project on a shopping centre in Provence-Alpes-Côte d'Azur.
 The installation of a photovoltaic system on the traditional slate roof of a university in Hauts-de-France.
 Renovation of a 2500 m2 multi-storey heating, ventilation and air conditioning system in the Lyon region.
Occupants of tertiary buildings, large and medium-sized retail outlets and operators of hotel residences are faced with 3 main levers to improve their energy performance :
the lighting,

HVAC (Heating, Ventilation and Air Conditioning),

on-site photovoltaic solar energy for self-consumption.
Improving the energy performance of a tertiary, GMS or residential hotel site must be based on an approach that is totally adapted to each site, its needs and its constraints.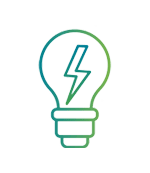 1. The lighting
Significant energy efficiency gains can be made by installing LEDs. The choice of LED solutions, their implementation and the associated control system will have a real impact on the investment made, the quality of the lighting and the extent of the savings made.
One of the challenges is to control consumption according to the occupation of the spaces and the external luminosity in order to minimise unnecessary consumption.
Example in a hypermarket in the Hauts-de-France region : install LED lighting to replace traditional lighting and thus save more than 60% of the building's lighting consumption.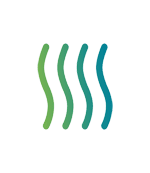 2. The heating, ventilation and air conditioning (HVAC)
Heat pumps are emerging as one of the most energy efficient solutions for both heating and cooling buildings.
The development of heat networks, in particular from heat recovered from nearby industries, corresponds to a growing demand for local energy production and consumption solutions.
Whatever the solution implemented, a BMS (Building Management System) control system will make it possible to optimise energy expenditure.
Example in a hotel residence in a ski resort in the Alps : install two air/water heat pumps at an altitude of 1800 metres.
3. The solar
Whether a solar power plant is installed on simple flat roofs or on more architecturally complex roofs, electricity production is now a cost-effective way of improving a building's energy performance.
Photovoltaic panels can also be installed on the facade of a building, although this type of technical solution is expensive.
The profitability of a project to install shaded areas on a nearby car park combines the energy interest with a strategy that integrates the notions of service and image of the company with respect to its consumers, clients and employees.
In all cases, it is necessary to :
consider a photovoltaic installation as an investment because the energy produced is decarbonised, recoverable and sought after; it is therefore not a simple cost item like any other,
put in place the conditions for its long-term development (legal framework, choice of appropriate technologies, intelligent dimensioning of the solution),
maximise revenue by choosing the best recovery option, as recovery conditions are changing rapidly, driven by technical advances in equipment and changes in the legal framework.
Example in a shopping centre in the Provence-Alpes-Côte d'Azur region : installation of 500 kWp of car park shading to produce renewable electricity and communicate the company's commitment to responsibility.
An energy challenge?

Our team calls you:
---
Learn more about Orygeen's customers :