Green hydrogen : a burgeoning market
Green hydrogen is one of the most promising solutions for decarbonising energy consumption. Green hydrogen is already part of strategies to move towards carbon neutrality in sectors where it is an essential alternative to reduce emissions, such as the heat-intensive processing industries, heavy transport and fertiliser production.
There are 3 types of hydrogen :
Produced from fossil fuels (mainly natural gas and coal) and therefore highly carbon intensive. This hydrogen represents almost all of the approximately 70 million tonnes of hydrogen produced today and will be replaced in the coming years by blue and green hydrogen as soon as the technical and economic conditions are met.
Also produced from fossil fuels, but combined with a carbon capture and storage process. In particular, this production solution makes it possible to use existing grey hydrogen installations while neutralising their CO2 emissions. The large-scale technological mastery of blue hydrogen and its economic competitiveness are still the subject of work by the players in the value chain.
Made from water and renewable electricity via an electrolysis process that does not emit CO2 (Power To H2). This solution is the most credible and promising thanks to the rapid decline in its production costs, driven by the improvement in the efficiency of production systems, the arrival of new electrolysis technologies, the massification of volumes and the fall in the price of renewable electricity.
Decarbonised hydrogen has many applications
In transport and mobility
This sustainable fuel allows the decarbonation of the sector
In the raw materials of some industries using grey hydrogen today
Enables the decarbonation of the production processes of chemical products and processing industries
In heat production (by direct combustion, e.g. methane production by methanation)
To substitute natural gas in heat production
In electricity generation from intermittent renewable energy
Power plants using green hydrogen as a fuel or generating electricity from fuel cells can store electricity produced from green hydrogen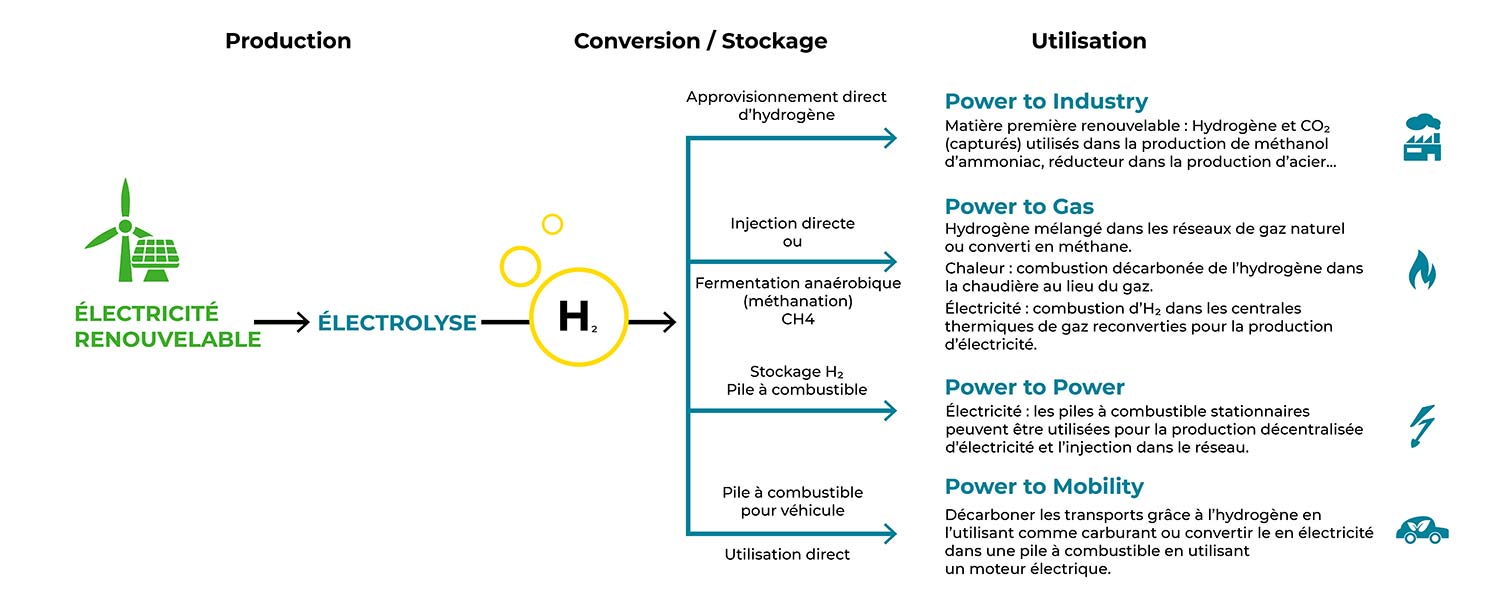 The deployment of green hydrogen for these different uses will depend on the decrease in its production cost and the speed of adaptation of equipment to this new energy vector.
Thus, in the coming years, the total cost of ownership (TCO) of green hydrogen vehicles will rapidly decrease while vehicle retrofit solutions will continue to develop and manufacturers will develop new models.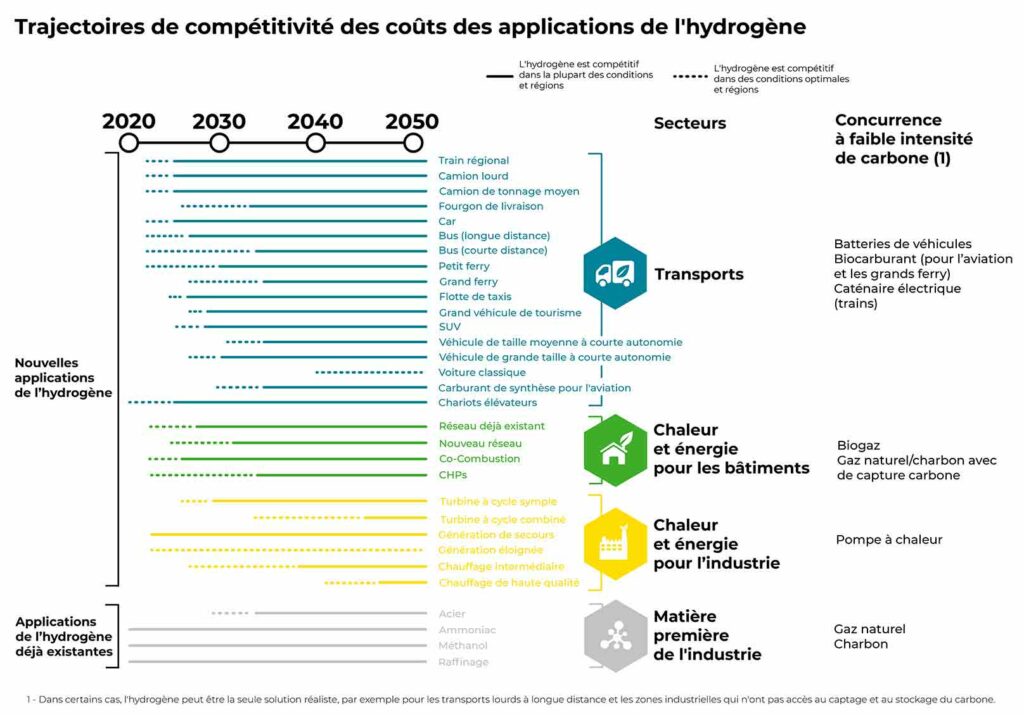 To reach their 2050 decarbonation objectives, Europe and the French government have mobilised very large subsidy programmes to achieve, initially, 40 GW of electrolysis in 2030.
These subsidies will also make it possible to launch complementary uses to green mobility, which require a lower price for green hydrogen, but which will represent the majority of volumes by 2050.